The Database Migration Tool enables you to convert all database records from source database format to the destination database format. The database migration software consists of sophisticated methodology that successfully completes database migration project in few necessary steps using Wizard-driven interface. Converting a database using the database converter software reduces the risk associated with complex manual database migration process.
With the help of Database Migration Tool, the user will be able to: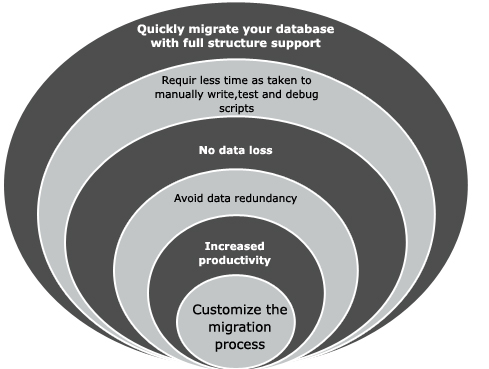 Database conversion utility converts data between different data source by allowing database administrator or developer to import data from existing database formats into the latest demanding database formats. The database converter is a core technology that handles the database conversion at lowest cost and offers smooth migration path using automated technologies. Database migration software services are expertise in accelerating the migration of the database to the desired target database in seconds. Migration utility transforms database from one format into another database format with easy to use database conversion tool of advanced and latest technology.
Various organizations hire database professionals to convert databases from one format to another. These professionals demand very high cost to get engaged in the database conversion process even then some data redundancies exist in the resultant database. In order to avoid all these data replications database conversion software is created that provides professional services to the users for converting databases of earlier technology into the database of new and latest technologies.
DRPU Software is leading expert in the development of various database migration utilities and helped thousands of customers around the world to migrate database records from older database technology with the latest database technologies. We provide professional database conversion program that facilitates database conversion in easiest manner and with complete structure support.